Events
Featured in Houston Chronicle: Ailing bride's wish for a fairy tale wedding comes true
October 01, 2015
Ailing bride's wish for a fairy tale wedding comes true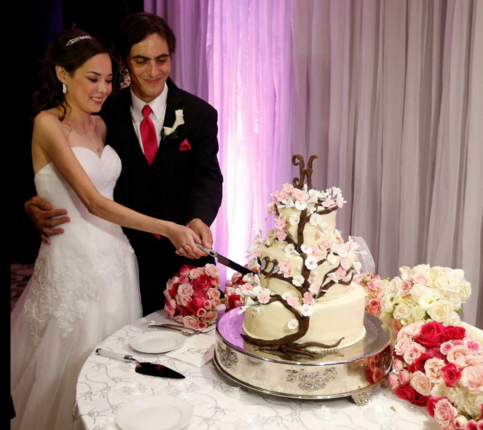 Catherine Voelkel and Peter Harriss first met on the playground. They were 6 years old and scurrying through cement tunnels after school in McAllen, their south Texas hometown.
Twenty five years later, the pair finally said "I do" during a lavish, no-expense-spared wedding in Houston to culminate their less-than-fairy tale road to the altar.
The couple dated on and off throughout junior high, high school and college until Harris realized that Voelkel was "the one" in 2011. They moved in together, and on July 1, 2014, he proposed in Dallas at the landmark Reunion Tower after pushing his bride up to the orb's aerial top floor in her wheelchair - Voelkel has battled a severe case of cystic fibrosis since birth.
"My mom wouldn't leave the hospital when I was born until they figured out what was wrong with me," says the now 31-year-old who likens the illness to experiencing chronic bronchitis and pneumonia symptoms every day of her life. She wasn't hospitalized again until her early teen years when the conditioned worsened; at age 25, Voelkel received a double-lung transplant.
"I was really healthy for five years. I got to do things that I was never able to do before: fishing, camp overnight, attend Texas State University, and ski for the first time ever," she says. "Then one day I got short of breath all of a sudden and just knew that I was going through organ rejection."
That was February 2014. Over the course of that year, Voelkel fought off the rejection (though the damage to her lungs is reparable), got engaged, and was granted her dream ceremony and reception by Wish Upon a Wedding.
The non-profit has orchestrated roughly 90 weddings and vow renewals for couples facing serious illness or life-altering circumstances since 2010. Voelkel and Harriss' Sept.8 nuptials at Hotel Derek marked the organization's fourth Texas union.
"All that anyone ever hears about are the $5 million weddings," says the couple's wedding planner Jo Ann Woodward of Schwartz & Woodward. "My husband (John) and I have been doing weddings for 14 years. When I asked people to donate their time, products and services for Catherine and Peter's wedding, not a single person turned us down. Not one."
Remarkably, 16 vendors pulled together to make the bride's vision of an Asian fusion motif - a nod to her maternal heritage - come to life. Jill Raines from EB Inc Events created custom fuchsia linens while Who Made the Cake's Nadine Moon encircled the wedding cake with cherry blossoms and added a love bird topper as a surprise final touch. Officiant Lynn Turner was scheduled to be out of town, but changed her flight during the 11th hour in order to perform the ceremony.
Despite the unusual circumstances - none of the vendors met Voelkel until the day of her wedding - hair and makeup artist Kathy Smith bonded with the bride almost immediately.
"Catherine arrived to the lobby almost in tears. She felt like she was late and unorganized," Smith recalls. Apparently, one bridesmaid had forgotten her dress, a groomsman was absent due to an emergency hip replacement surgery, and the groom was feeling ill. "I gave her a hug and assured her that everything was going to be fine."
Smith was right. Fit for a princess, Voelkel walked down the aisle wearing the second - and last - dress that she'd tried on, a strapless white ball gown from David's Bridal. Three bridesmaids trailed in fuchsia frocks that matched the bride's satin pumps.
After they were pronounced man and wife, the newlyweds and their 50 guests feasted on lobster bisque, seared salmon over quinoa pilaf, and grilled asparagus.
"We wanted to go above and beyond and take the couple's preferences into account to really give them the day that they deserve," said Stephanie Summerall, Hotel Derek's director of sales and marketing. "Knowing that we somehow played a role in facilitating an occasion that otherwise wouldn't have happened given their current medical and financial situation has definitely been a professional highlight for myself and most of the hotel staff."
Married at last, the duo opted for a quiet honeymoon on South Padre Island, where Harriss, also 31, owns a vacation home which he manages as a rental property.
"I never thought that my wedding would actually happen," Voelkel admits. Although stable and operating on an 18 percent lung capacity, it's likely she'll need a second double-lung transplant.
"I know I can't promise perfection, but this was so important to me that for five minutes, Catherine could get out of her illness and just enjoy the moment," Woodward said. "You don't know if she'll be around to celebrate their anniversary. We created a memory for her family; Peter will have memories for a lifetime."
Click here to read full Article on Houston Chronicle
« Browse Other Events
Client Reviews
I only have positive things to say about my experience with Elegant Beginnings. Thank you so much. I will definitely be using Elegant Beginnings again.
— Binti L B
Great selection. Great people. Great execution. From day one Brittany was so helpful! She helped me find the chair ties I was looking for. So many companies would have one or the other,...
Read more
— Corey A